Mr D supported us with 2 tickets

Ms F supported us with 3 tickets

Mr S supported us with 5 tickets

Mrs H supported us with 5 tickets

Ms O supported us with 1 ticket

Ms N supported us with 2 tickets
---
3d 12h 12m

09 July 2022
---
Winner! Mrs W (LEICESTER)

Won £25.00!

Winner! Mr J (IBSTOCK)

Won £25.00!

Winner! Mr B (MELTON MOWBRAY)

Won 3 extra tickets!

Winner! Mr W (LOUGHBOROUGH)

Won 3 extra tickets!

Winner! Mr S (LEICESTER)

Won 3 extra tickets!

Winner! Mrs C (LOUGHBOROUGH)

Won 3 extra tickets!

Winner! Mr H (Loughborough)

Won 3 extra tickets!

Winner! Ms D (LEICESTER)

Won 3 extra tickets!

Winner! Mr D (Leicester)

Won 3 extra tickets!

Winner! Mrs B (LEICESTER)

Won 3 extra tickets!

Winner! Mr B (Shepshed)

Won 3 extra tickets!
About us

Dear Supporter,
Homelessness is at a crisis point- almost 100,000 households were recorded as homeless at the start of 2021, shown in a report by Shelter. With the rise in energy bills, the cost of living and the eviction ban being lifted; combined with the long-term pandemic effects, this number is only expected to rise. These statistics are reflected in the unprecedented demand for our services at The Bridge (East Midlands), as we received 6,202 referrals in April 2020- March 2021, which was a huge 39% increase compared to 2019-2020.
Working for the community since 1993, our mission has been to develop sustainable housing solutions to individuals and communities through partnership, empowerment, and good practice. We not only source our clients a place to call home, we also ensure they have the skills and ability to stay there long term. Within this, we strive to prevent and relieve homelessness by tackling many of the underlying causes. This may mean identifying specialist support for issues such as social exclusion, mental health problems, alcohol and substance misuse, or domestic violence. Our holistic approach ensures our clients are a part of their support, providing an empowering and life changing platform to prevent or relieve their homelessness.
To carry out our vital work, we ask for your support to help us ensure our local community is safe, supported, and healthy. You can do this for just £1 per ticket per week in playing the Charnwood Lottery, which will go towards the delivery of our services to those most in need. This donation will make a huge difference to local people by enabling our triage team to take a call from someone in crisis, our housing advice team to offer a lifeline to someone on the brink of homelessness, or our housing support team ensuring that somebody is receiving the support that they need to stay in their home long term.
So far in 2021, with the donations of local people, we have prevented or resolved 92% of our client's homelessness; as well as improving financial circumstances for 80%, improved housing conditions for 88% and supported in improved mental health for 84%.
Without the funds to carry out our work, our clients would be in a very different situation now. Therefore, we ask for your generosity to take part in this lottery so that we can ensure people in our local community have a sustainable, safe, and long-term place to call home.
Thank you and good luck!
With best wishes,
Paul Snape
Head of Business & Development (Deputy Chief Executive)
Help us share our cause on social media
How the lottery works
That's right, unlike many other lotteries, our lottery tickets are only £1 per week.
50% to your chosen cause and 10% to other causes in Charnwood.
Match all 6 numbers and you win the JACKPOT!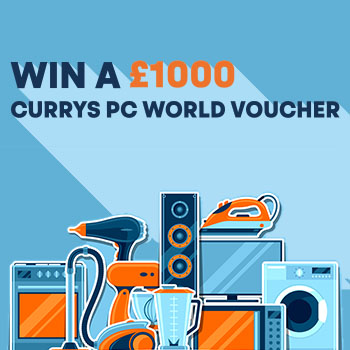 Win a £1,000 Currys eGift Card
Need an upgrade? Get your tickets before 27th August for your chance to win an amazing £1,000 Currys eGift card! From kitchen appliances to TVs, and laptops to iPhones, there's something for everyone!